Author Interview: Kate Stewart
Kate Stewart is here! It is great to have you here at T & G Book Boutique! I have some pretty great questions for you!
First off, tell us a little bit about yourself!
I'm 39, married ten years to a ginger with an amazing heart. Our only child is mini beagle named Sadie. My real name is Kathryn so when Sadie's acting a little more bitchy than usual he calls her Sathryn.

Our little family is anything but the norm and my friends often come over just to watch the two of us interact. We are the modern day Fred and Ethel from I Love Lucy, but there is a lot of love.
What got you into writing?
Apparently I told a few people years ago I wanted to be a writer. It's something I always knew I would eventually do, but publishing was a totally different story. When my mother passed, I kind of went nuts and tried my hand at everything creative to keep my mind off of it. They say to write what you know, so I sat down one day and wrote my first heartbreak.
Tell us a little bit about your books.
Room 212- is a 70 percent fictional hot mess. It's full of angst steam, love, and frustration.

The Fall, The Mind and The Heart are sister books and just as emotional. All of them are second chance and all hard to get happy endings. Those books sucked the life out of me.
Never Me is fictional story about a actual trip I took when I was seventeen. It was an adventure. Again 70% fictional, but with a little truth mixed in. Spencer does exist. We did dance in the streets of New Orleans and in a bar filled with geriatrics. Men like him do exist. I wanted to share that.
White Liar is based on me and my hubby's relationship dynamic and the trials we've gone through as a couple. We are still working the kinks out, but I really wanted to reach out to those who struggle with being an ADHD partner and say...We are in this together. I know how you feel. And... yeah sometimes it really does suck, but they are worth it.
Your new book is a rom-com, your first ever, how did you come up with the idea to go in that direction?
The older I get the less I believe in coincidence and more in affirmation and this is why. I was driving to work one day and thought to myself that I hadn't had an idea hit me hard since White Liar. At work a few hours later, our office got a delivery of Charleston Riverdog schedules. It's a local minor league team. I suggested to a co worker we attend a game and thirty minutes later Rafe and Alice (the characters) began talking. It happens that way a lot. It was a comedy from the first words that popped into my head. They were bantering playfully and Anything but Minor was born. Also I was really getting weary of the angst and wanted to do something on the lighter side.
Many people do not know that you are also Angelica Chase! How do you keep the two distinct? And did you do this because of the more erotic nature of Chase's work?
To me, Kate and Angelica are completely different authors. When I read the final drafts I see a few similarities but when I write as Angelica I get into a completely different mode. I feel a bit more freedom as Angelica and the scenarios in those books call for a different line of thinking. Intrigue, sex, plot twists, and darkness play a huge role in those books. With Kate I want to steal breath in a different way through romance and high emotion. I started writing as Angelica because I 100% did not want my family to know. My books as Angelica are filthy. Since I've published my family became aware and are completely supportive regardless. I still write under separate names because I do feel the work is very much night and day.
Loving the White Liar really hit home for many with the ADHD theme. Is this something you had 1st hand experience with?
Absolutely! I've experienced 12 years, (10 married) with a man who suffers from ADHD. I
wrote from my perspective and experience as a partner and though the disorder is complex in nature, I knew my husband's symptoms were very much the same as others who suffer. I was terrified to publish. I did my research, but again not every case is the same. The reward in taking the leap to reach out to those who love the afflicted has been overwhelming. I got a message an hour ago that brought me to tears.
There will always be the great debate about how to deal with ADHD and my decision was unconditional love, because really what else is there? I'm no Hillary, but I want to be. In fact I've been far less patient than I wrote her, but I strive for it.
In your book "The Mind" you created a fast and complete epic love with a terrible tragedy. Was that planned? Did you always see Rose's story differently?
I originally wrote The Fall with both Rose and Dallas' story as one book. The tragedy was always in the original. My agent suggested I split the books. The Mind is a mix of the ripped scenes from the original Fall draft and I expanded on that and it hurt like hell. I actually passed out from emotional exhaustion when I finished it.
If you could jump into any one of your books, which lead female would you choose and why?
I feel like I've been all of them at one point in time. I tell my editor and soul sister Edee I lived a hundred lives by age twenty one and I will write them all. If I had to choose a favorite, it would be Laura from Room 212 because, in a way, I hope I now have her mentality at the end of that book. She took the hard road and so did I but she came into herself at her own pace and by her own doing. Those are the women I admire.
Do you have a favorite story to write? Erotica versus contemporary? Do you find one more challenging?
A favorite is anything I'm on fire for. Whatever book I'm writing is my favorite while writing it. I will say erotica, Angelica's way, is much harder due to push for hotter sex, more intrigue, better plot twists. I love writing both. It's a tie.
Favorite pass time?
Tell us an embarrassing story?! I always love asking this question because it gives us a good laugh.
I was in Las Vegas with my sister at the MGM grand pool. My sister asked me to escort her drunk friend to the bathroom. I was easy with her and we watched our steps carefully. When I had safely escorted her out she thanked me and let go of my hand. I then slipped fell and slid ten feet on my back in front of about 500 people. About ninety percent of them were beautfiul men. My sister walked away.
Tell us one weird or interesting thing about you?
I am a complete Google and Wikipedia fiend. If I'm watching a movie and I want to know about an actor, I will have researched everything about that person by the time the movie is over. I remember googling Keanu Reeves a couple of months ago, fascinating and humble human.
Also, I love rap music and get odd looks often bumping classic Eminem without apology.
What book is next? Tell us about it!
I'm finishing the second book in the Predator and Prey series for Angelica. For Kate, I'm hoping Anything but Minor births a brother. I intend to re-release TITAN sometime this year. This is a story of a international and untouchable rap star who falls for the girl next door. I'm also working on a collab with one of my favorite authors, Jewel E. Ann. This is probably the one I'm most excited for.
Thank you for being here with us Kate! We appreciate it!
Thank you so much for having me! XoXo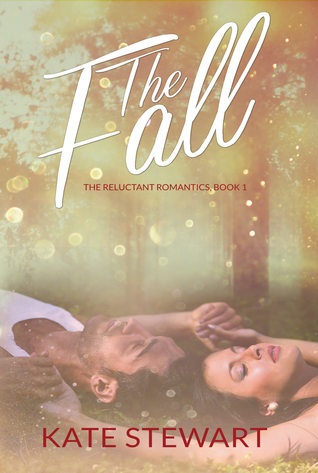 He was the beginning of my heart . . . and the end of it.

I was only fifteen years old when he claimed it and twenty when he took it with him.

They say what is meant to be will find a way. But when you have changed to the point of no return, how can anything ever be the same?

Seven years later, Dean Martin waltzed back into my life in hopes of resuming what I had fought so hard to forget, but he was in for a wake-up call.

I was no longer the naïve woman he had left . . . and I was no longer his.

I met the love of my life and my soul mate when I was fifteen. I knew that; he knew that. He wanted that girl back. I wanted to forget she ever existed.

Dean

What I thought was my pre-destined path was very much an illusion. Living seven years with regret, I realized too late that I was broken, and that I only had myself to blame.

I thought love could wait . . . but it didn't.

We'd had it all those years ago, and then I foolishly left it behind.

She was all that mattered. She was all there ever was.

There was no life without Dallas, no reason . . . except her.

No matter how hard she tried to convince me, I knew I had to once again make her mine, to make her remember . . . the fall.
I met my true love when I was twenty-seven. He was handsome, charming, witty, and irresistible. Jayden Monroe came along when I was struggling with indecision and made things simple, turned monochrome into vivid color, and forever altered my perspective on life.




I was not naive enough to believe in happily ever after, but with Jayden, it seemed possible . . . until I realized something wasn't quite right.

You see, I met a man who would be anyone I needed him to be, and after I found out that fact, I knew it would be impossible to walk away. His disorder, however, would change everything I ever thought about love and what it truly meant to accept someone for who they are.

This is not my sob story; this is his success story.
COMING SOON



"Okay, she's a flight instructor."

"Better."

"He's a ballplayer."

"The best that ever was."

"Technically, you aren't according to MLB stats."

"See? Total nerd. She also has no filter."

"He's no southern gentlemen."

"I had one last season to prove my worth."

"I'd never seen a game."

"He told me he was a player."

"She told me she was a lesbian."

"But you fell in love with me anyway."

"Yeah, baby, I totally did."