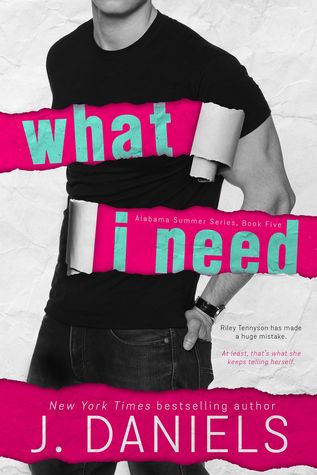 Riley Tennyson has made a huge mistake.

At least, that's what she keeps telling herself.

Showing up to her brother's wedding pissed off and newly single, Riley seeks comfort in solitude and an open bar, until the gorgeous and irresistibly charming CJ Tully makes her a better offer―a wild night with the master of smooth-talking where nothing is off limits.

Riley does what any single woman would do, and a connection is made. One neither one of them can ignore. But when she comes home to the boyfriend she no longer thought she had, Riley buries her secret and begs CJ to do the same.

Forget about each other. It was a mistake. That's all it was… right?

Desires are hidden. Distance is kept. Until one night CJ makes the ultimate sacrifice, and Riley can no longer avoid the man she can't stop thinking about.

Not with him sleeping down the hall…
Review
What I Need by J. Daniels is a story of unmistakably sweet, torturous perfection. J. Daniels grips you by the heart and doesn't let you go even when you've already finished the last words. This book will leave you thinking about it for hours and days after finishing it. What I Need is a book that does not want to be forgotten and J. Daniels accomplished that perfectly when writing it. The characters that we all know and love make appearances and they are as amazing as ever. It is so fun to see these glimpses of them throughout the book, but make no mistake, this book is all about Riley and CJ Tully. They are one amazing pair.
We all know how the brother's friend is always forbidden for dating the sister. And this book is a little bit about that but it by no way defines the book as a whole. It is so much more than this. The story takes you on one long ride on the Tully Train. Be prepared to fell all the emotions that come with a romance because you will feel them come on strong and fierce in this amazing love story.
CJ Tully is a guy that you can't help but love. Everything he does is done with conviction. He is straightforward and I loved that. I love when people know what they want and they go for it. That is what I loved most about him. He is determined and he will do everything he can to be the best possible man. I've never met anyone like him and that made me fall hard for him. Not only is he adorable and strong, but he is romantic. His sweet words and his honesty are the best parts about him. He is just overall flawless, the perfect man.
Riley was a little tougher to understand. She was a beautiful girl with a lot of conflicts and doubt in herself. She was cute and caring but she made me so mad at times!!! She needed to trust more and believe in CJ. She was always scared of her brother finding out about their relationship. That was the only thing I didn't like about her. When she would forget about this little issue she was one amazing character full of life. Riley Tennyson was a force to be reckoned with. I think that these two characters balance each other out and I loved that.
Finding a book to read can sometimes be a challenge but don't even think with this book. Pick it up and read it now because it is that amazing. J. Daniels has quickly become one of my favorite authors and I love her words. What I Need is another masterpiece she has written and I don't ever want to let go of it.