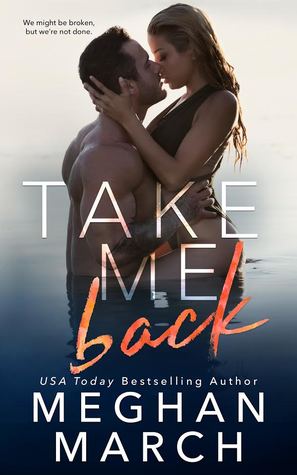 We fell in love on a beach, got married in paradise, and I carried her off into the sunset. It should have been perfect, but saying "I do" doesn't guarantee a happily-ever-after.




Two years later, I barely recognize either of us behind the walls we've built.

It's time to bring it full circle. Back to a tropical paradise. Back to find out if we can still make this work.

I'm not willing to give her up, but to save us, I have to risk everything.

We might be broken, but we're not done.


Take Me Back by Meghan March is a book that had me holding my breath and wanting MORE. I was hooked and intrigued from the very start. We always get the journey of the romance but rarely do I we get the what happens after the happily ever after part. Meghan March delivers a book that crushes your soul with it's beautiful words, brilliant story, and second chances. I was in my own world reading this book and I could not put it down.
I know something was going on in this story because there were so many untold truths from the start. I didn't know what but I could sense them. I felt something big was going to happen. We get this sense of longing and regret in this book. It is all about the emotions and what led to them. I love how Meghan gave us flashback of what happened with the couple in the past because it made the whole book perfect. We saw how this couple got together and what led them to slowly drift. What Take Me Back is though, is something beautiful because we watch these characters fight for their love.
Dane was hands down a brilliant and strong character. I fell in love with him and his fight. He wasn't about to quit and he fought for their love. Dane is the type of character that you feel connected to right away. He is caring and thoughtful but he is also all alpha. You can sense it right away in the way he cares for Kat. Their story isn't ending and this is just the beginning of their path to the future. I can tell from page one that these characters felt sad but wanted to work at their marriage. But will they be able to win each other back with all the truths they've kept from one another?
I feel incredible passion and love for Take Me Back that not a lot of books give me. I like second-chance romance but they are not my absolute favorite. While reading Take Me Back though, I fell in LOVE. I loved everything about this story and that shocking factor is there. The book keeps you hooked and you just don't want to stop until your done. I spend hours reading it but it felt like minutes. Meghan March has done it with this book. It is a definite must read.