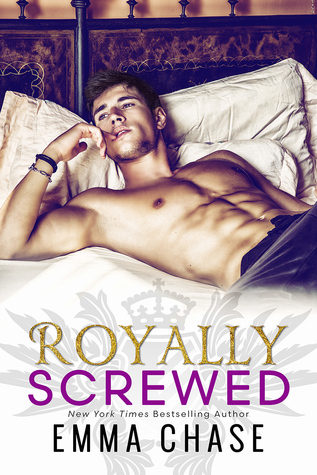 Nicholas Arthur Frederick Edward Pembrook, Crowned Prince of Wessco, aka His Royal Hotness, is wickedly charming, devastatingly handsome, and unabashedly arrogant; hard not to be when people are constantly bowing down to you.




Then, one snowy night in Manhattan, the prince meets a dark haired beauty who doesn't bow down. Instead, she throws a pie in his face.

Nicholas wants to find out if she tastes as good as her pie, and this heir apparent is used to getting what he wants.

Dating a prince isn't what waitress Olivia Hammond ever imagined it would be.

There's a disapproving queen, a wildly inappropriate spare heir, relentless paparazzi, and brutal public scrutiny. While they've traded in horse drawn carriages for Rolls Royces, and haven't chopped anyone's head off lately, the royals are far from accepting of this commoner.

But to Olivia, Nicholas is worth it.

Nicholas grew up with the whole world watching, and now Marriage Watch is in full force. In the end, Nicholas has to decide who he is and, more importantly, who he wants to be: a King... or the man who gets to love Olivia forever.
Review
Royally Screwed by Emma Chase is a book I had been wanting to read since it released! I am so happy I finally got the chance to dive into this book. It was royal perfection. It made my heart so happy and I got to experience the crown. I love books that are about kings and queens. It's just something about these books that make you feel special just by reading them.
I think the books starts off perfectly. With Olivia and her world. We see her struggle and get a little background into her history and what is going on in her life. Olivia has so much going on and she is a hardworking woman. It is amazing but sad to see at the same time. She doesn't get a lot of time to herself. Nicholas on the other hand is royalty. He has everything, but he has also suffered a sad past. He intrigued me from the start and it is amazing how it starts off all the way until the end of this book.
Nicholas wants Olivia and he has to worked hard for her. She is not easily won over and I love that about her. He is so cute and it is so fun to watch him try and catch her attention. He is instantly lovable! I love watching them do so many things together and fall in love. This book changes settings which was so much fun! We have a little bit happening in the U.S. and then we go to Nicholas and his country in Wesco. I thought that was brilliant. I go to experience so much while reading. It was as if I was traveling there myself.
Emma Chase did brilliant wonders with Royally Screwed. I was captivated throughout the whole book. I am super excited for this series to continue because I can't get enough of all these characters. They are all marvelous!