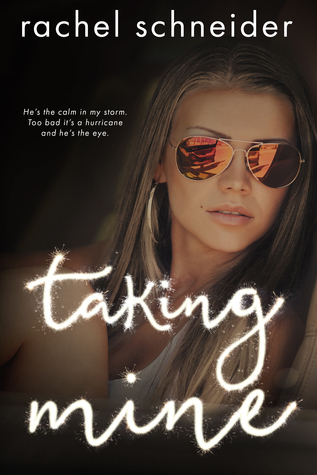 Date Published: December 31, 2015
"Nothing I have ever tried has given me the thrill like taking something that isn't mine does."

Lily is eager to make a better life, for not only herself, but for the brother who raised her. When her scholarship is revoked, she resorts to desperate measures to pay for tuition, trying to keep her life on track—the same measures she promised herself she'd never take again—and fears the consequences. Things only get more complicated when a deal is offered that is almost too good to be true.

In walks the distraction: Justin. An annoyingly good-looking guy who pushes her to not give up on her dreams, even when things don't go as planned. Despite Lily's best efforts, Justin falls into a world of fast cars, fast money, and fast crooks.


After all, habits are hard to break.
My Thoughts
Rachel Schneider has blown me away with her debut novel, Taking Mine. Taking Mine is a unique book that had me feeling everything the main character felt. When Lilly was nervous I was nervous, when she had adrenaline coursing through her veins, so did I! There is no way I can explain this rush other than I felt connected to her. When an author gets you that invested in a book you definitely know they did an excellent job writing it!
Let me tell you a little bit about the book. Lilly is in college and her scholarship has just been revoked. She has had a hard past but her and her brother have survived. They have done what it takes to live their life. Lilly resorts back to old ways when she desperately needs money for her tuition. During this struggle she runs into Justin, the sexy, beautiful, and the quite surprisingly, striptease hunk of a man. He brings a whole lot of sexy into her life. What she doesn't know is that along with the steaminess he will also bring problems!
Lilly is beautifully written. Like I said before, everything she feels I feel as well. She is a dedicated woman and I love that about her. She is also smart but she does lack confidence in herself and her ability to be her. This is not a bad thing at all! This endeared me to her right away. This girl has a both strong and weak personality, which she feels she needs to find herself on her own. Her character flaws make her one real character. Rachel couldn't had done a better job of putting her together!
As for Justin, I have nothing and everything to say. He is absolute perfection and absolute devastation. He brings both these feelings to mind. I thought I had him figured out but I was punched in the gut by him! I could not believe the words that I read towards the ending of this book! I can't. I can't. No words. I was in utter shock. This factor was so amazing and another thing Rachel did perfectly! So let me explain my love for Justin because obviously I can't explain my hate for him because it would ruin a good book. But I love Justin. What he does for Lilly is amazing in the book. He strips! One of my favorite scenes EVER! His jealously was extremely hot. The way that he protects Lilly was both beautiful and tragic. Ugh Justin you make me feel every emotion out there!
The story line, the plot twist, and everything else was executed perfectly. One of the things I love most is that this book got me interested right away! I love when books catch the attention of the reader right off the bat because it gets them hyped for the rest of the story. The little and big emotions were heard, the exchange between the characters was real, the perfect amount of fear, love, regret, anxiety, anger, and forgiveness makes this book unforgettable! I am beyond impressed by Rachel. This is her FIRST book and it was excellent! Taking Mine will leave you wanting more from Rachel Schneider! I cannot wait for more books from this author.