This year has been a great year in the book world. So many amazing books came out this year and I have met many new authors, devouring their books/series in days. I am going to try to narrow my list down to 10 book but I will add some honorable mentions because I NEED to. The books I choose are worthy of being on this list and I recommend them for sure. I was torn apart and I broke down in tears with these books. I was healed and saved by some. The new book boyfriends I met deserve to be swooned over. So let's start this list before I go off on a tangent.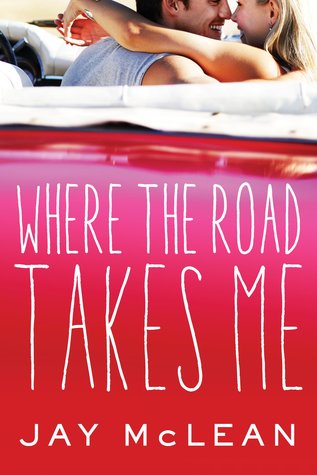 #ONE
WHERE THE ROAD TAKES ME BY JAY MCLEAN
This book is everything to me. Everything. It deserves to be number one. I was saved by this book. It is still hard for me to process and I talk more about it in my feature
Midnight Monday
. I just looked back at my post and I just bawled my eyes out. It was a very emotional and personal post for me. My person, my everything, just passed away recently. Stupid cancer. You are the blackest of black but you can't take my
red
memories away from me. I don't think I can talk more about this because it becomes too hard but you can go to Midnight Monday and find that post. I explain things there.
Back to the book. The writing in this book is so great and the things that happen on this book are a great journey. So much sadness is seen on Blake and Chloe's journey but their is also hope and love. This book #turnsmyworldred!
Book Boyfriend: Blake. Blake, is everything that you want a boy to be. He is strong and supportive. He is sweet and he is there for Chloe. "Blake Hunter–he was my change." This quote explains a lot. Chloe needed Blake. He literally was her change. It was a tough process but he helped her through everything. He makes my heart beat. "I cried. I hurt. I healed." This was exactly what the book does to your heart. I'll stop gushing about Blake and I will just show you through quotes why this book, and Blake, deserve number one book and number one book boyfriend.
"If I could dream the same dream a million times over,
it would be you–you wold be my last kiss, my last breath."
"You're my unexpectedly phenomenal, Chloe.
You're my red-letter day."
"Love me when I least deserve it,
because that is when I need it the most."
"You can run, you can hide, you can choose not to see,
but where the road takes you will always lead to me."
"Then he pulled me into him–the heat of his bare chest against my back.
His hold was tight. So tight I almost couldn't breathe.
But that was fine–because in this moment,
all I needed was Blake."
I know, I know, I went a little overboard with the quotes, but sue me, Blake and Chloe deserve it! They are after all number one, so they get as much as I want to write. One more final thing, the magnets were brilliant Jay McLean!
If you want to check out my thoughts on this book, just click here:
My Review
#TWO
STOP! BY ALISON G. BAILEY
Stop! is incredible. It is so much more than romance. It deals with hard subjects and it deals with bullying. The message and content in this book is powerful. One of the most powerful messages in a book that I have ever read. Alison G. Bailey did so great. I have two boys that deserve recognition, but for very different reasons. I won't be much help in describing things for this book because I will not spoil the massage or the meaning.
Risher: Risher is my man! He is perfect. Since the very first time they ran into each other I fell in love with him. His easy demeanor, courage, and acceptance was amazing. Plus look at that picture of him!! He is so yummy looking.That is exactly what I picture Risher looking like in my imagination.
Benton: He deserves the most recognition. I have never met anyone as strong and beautifully written as this character right here. It is more than just him, it is what he stands for. Benton put up with a lot of things. To me he is the main character in the book. He far surpasses everything. This book is more than a romance book. Don't expect that to be everything because it is not. More powerful things brew in this book. Important things that will make you realize things that you haven't thought of before. Benton you will always be important.
"There are times when life presents you with turning-point opportunities. So are huge events beyond your control that force you to change. Then there are smaller events, the name calling and the hateful taunting, making fun of your differences."
"You're even more beautiful than you were five minutes ago,
five hours ago, five days ago, or even five weeks ago
when I first laid eyes on you."
Read my review here:
Stop!
#THREE
KICK PUSH BY JAY MCLEAN
First off, never has such a book been worthy of such a strong and heart-stopping cliffhanger. But this book was worthy of that ending. As much as it hurt it needed to be done. Even with the cliffhanger, it is beyond worthy of being read. Do not let the ending scare you. I think it is this way because it is meant to be shattering. I am beyond ok with that. More is to come, and this is what makes me excited. This book was different and it was more heartbreaking than I thought it would be. I have so much to say but yet I don't want to say anything! This book hurt me. It took me on a very painful emotional ride. Moment swere shared. Memories created. Hearts shattered. You get the drift. It was heartbreak, but the moments of happiness could overpower that at times. All you have to do is kick, push, coast.
Josh: He is the best dad ever. He is a single dad and I have never loved one as much has I have loved Josh. The way he cares for his son? Heart-stopping. He dedicates his whole life, his whole existence to that sweet boy of his. Because of this, he makes girls hearts start beating wildly. This will be you if you read this book. And then the way he loves is beautiful. I can't say enough good things about Josh.
For a look at my review click here:
Kick Push
"There are some sacrifices greater than love. And some loves greater than any sacrifice.
Tommy's greater than both."
"Stop!." she shouts, the fear in her voice causing fear in my heart."
"Do you have a safe place, Becca?
I release a shaky breath, but I can't seem to look away.
"Yes," I whisper. And I hesitate, just for a moment before telling him the truth. "You."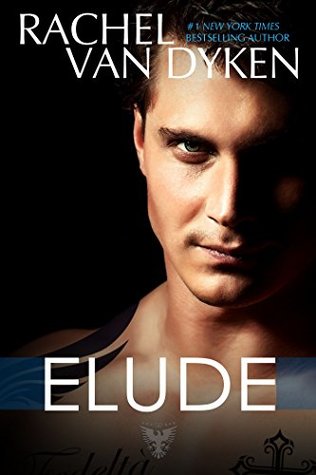 ELUDE BY RACHEL VAN DYKEN
Elude was tormenting. This books is nothing but good. I never realized there was so much depth to Sergio. He was my least favorite character and he quickly became my favorite of all. This book was more than I expected. It gave me a love so strong and a connection that was unwavering. It took some time but quickly nothing but love remained with these two lovely characters. I absolutely adored Andi. She was one of the best females in the mafia. Her personality and her outlook on life were unbelievable. This whole book was amazing.
Sergio: He is really one of the best book boyfriends of all time. The care and the strength he showed to Andi had my eyes leaking happy tears. The way he learned to love her? Beautiful. He did anger me at the beginning, I am not going to lie, but after a while he had my heart. Even now, I am beyond happy with him. The way he loved Andi was so swoon worthy. Everything he did for her was sweet. I love Sergio. I would want him to be my mafia man!
"
And I knew if I loved her, if I ever let myself feel; it would destroy me.
"
"
We were quiet, passionate; both of us realizing we were experiencing one of those rare moments in life where words were useless and actions meant everything.
"
"
Andi's megawatt smile nearly toppled me over. I didn't have a chance to fight it off or to put up any walls so it
wouldn't spear me directly through the heart. Instead, I was defenseless as the smile wreaked havoc on my heart rate as well as the rest of my body–
"
For my review of Elude click here.
THETHERD BOND BY EMMA HART
Emma Hart really did amazing this year! The Holly Woods File Series has been one of my favorites to read. Tethered Bond has everything I love in a book. The female character, Noelle, has a whole lot of sass and spunk. That makes for a very fun encounter with the sexy Detective Drake Nash. Every time they meet it is explosive. I love that!
Detective Drake Nash: Hot, sexy, alpha. Plus, did I mention he was a detective? That is extremely hot and attractive. He has this authority about him that just captures you. I love that Noelle can handle him. She is feisty and that makes Drake crazy. I love it! The way that he has come to care for her is adorable. Something about this tough detective falling in love equals so much hotness. I would love for him to investigate me! ;)
"There are two ways to get Drake back on my side: sex and this smile. "It's not gonna work, Noelle," he warns me. The twitch of his lips gives him away. Seriously, the man is a terrible liar."
"The smile is gone, and there's nothing but his kiss. It consumes me. It always does. It's like a hurricane and a tornado swirling inside me, washing through me like a tsunami. All sugar obsessions aside, I've never been truly addicted to anything. If I had to pick one thing to be addicted to for the rest of my life, it'd be his kiss."
MORE THAN ENOUGH BY JAY MCLEAN
More Than Enough. This was the most intriguing book I have ever heard of, with the biggest anticipation for it's release! Everyone wanted this book. We were all curious in the book community. So much mystery was killing us all. I am so glad it lived up to its hype. And no, I will still not share with you the name of the woman that Dylan loves. That is for you to find out. One thing I can tell you is that if you have not read this series then you must. It is one of my all time favorites.
The reason this book is so good is because it has hardships and the characters face torments in their lives. I've never read anything like it. This is a beautiful story that will have you feeling six kinds of emotions with one single word. It is that good.
Dylan: Dylan, so hot! Oh my silent brooding man! I love you. He was the silent guy in the group. He was also the most intriguing to me. What little I heard from him in the other books always had me wondering and wanting more. He rarely spoke but when he did, it was amazing. So, much to my surprise, in this book he was a chatterbox. Ok well not that much but way more than the other books. Especially when he talked with his girl. His words were amazing. Everything he said or did was great. His love and the way he cared for his girl was sweet. I have never been happier than when he buys her candles and grants her so many wishes. *happy sigh* I knew that he was going to be incredible! I am extremely happy with Dylan and this book.
"Let me be your alcohol. Let me dull your pain."
" I try to remember the color of her eyes, and the only thing I can come up with is sad. her eyes are the color of sadness."
"There is no emotion greater than fear. No ache greater than grief. No sound greater than silence."
"What are you doing, babe?" he asks. I love that he calls me babe. "Just tinkering with your engine Lance Corporal Banks." "Oh my God," he murmurs, his grin wider than I've ever seen. He steps forward, looking in my eyes, and then he runs the back of his finger across my check. "You got grease on your face, ---insert name of the girl I will not mention---. So fucking hot."
"Each day we spend together, we learn and we laugh and we love more than the last."
Review of More Than Enough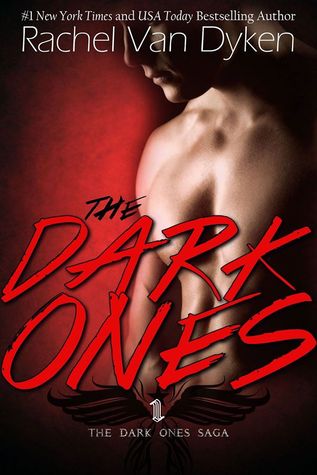 THE DARK ONES BY RACHEL VAN DYKEN
This is Rachel Van Dyken's first paranormal book ever and guess what?! She did an incredible job with it! I have not been this excited about a paranormal book in a really long time. I was so passionate about this book and you can read all my thoughts and read all my gushing in my review here:
The Dark Ones.
The whole concept of this book was so different and unique. I loved the way the book started. So much mystery and intrigue. It was great. I loved everything about this book.
Ethan: He was a really great guy. He was hard to warm up to at first because he was rude but then as the story moves forward you learn why. His past was not easy. It was sad. As soon as he starts falling for Genesis, everything changes. He is absolutely amazing. Oh and he is a vampire! That is so hot. And the second book just came out recently and Ethan in that book?! HOT! His protectiveness of Genesis is so heart warming.
"What do I taste like?" "Heaven," I said before I could lie. Being honest wither her about her own taste was the least I could do, right? But just admitting it out loud made me want more."
"He kissed me like a man dying of thirst–and maybe he was, maybe it was my blood. Was it wrong to hope it was my smile? Maybe even my dress?"
"You're beautiful, Genesis." I swallowed, placing my hands on the table in front of her. "Immortals would fight wars over you, and not just your face or your hair or the way your smile penetrates to someone's very soul–but because you're good."
HOLDING YOU BY KELLY ELLIOTT
Kelly Elliott had a lot of amazing releases this year but I had to go with this one because I love Colt! He is my favorite and since he is the offspring of Gunner, I knew I would love him. This book was great. I knew I would love it. There were a lot of things that were sad in this book but love overcame all. Their love was a struggle especially in the books prior to this one. But I blame Lauren! She was avoiding her affection towards Colt. On the other hand, Colt knew what he wanted. He wanted Lauren. I loved that he was so sure of himself. Y'all absolutely need to check out the character interview I did with these two! It was so adorable and great. Just click here if you want to go to that:
Holding You Character Interview and Review.
Colt: This boy can do nothing wrong. He is so perfect. Sometimes a little to perfect. But I love him.
He is a sweetheart. Throughout the book I just felt the love pour out of him. Lauren was always his soulmate. He always knew she was the one. I am glad that he never gave up on her. I will share some quotes and that will help you better understand!
"Colt smiled back, and this time it reached his eyes. They lit up for the first time in weeks, and I loved that it was because of me smiling at him."
"I'm asking you to let me make you mine, Lauren."
I saved myself for you, because I knew the first time Imade love to a woman, it was going to be wit the woman I loved amore than the air I breathed. My heart wants no other woman but you, Lauren."
"My dreams could never have prepared me for your perfection."
#NINE
EVERY LAST BREATH BY JENNIFER L. ARMENTROUT
I had been dying to get my hands on this book since I finished the second book to this series, Stone Cold Touch. That book killed me. I needed the third book and I finally got it this year. JLA did not disappoint. This book was everything I wanted it to be and I couldn't be happier with it. I loved this whole series and I am glad with the way it turned out! The surprise elements and all the things I endured throughout these 3 books captured me. I was broken quite a few times but by the conclusion I was happy. There were some really bad things that happened that I am still angry about but overall it was amazing. I don't think JLA could do wrong. She writes amazing books. I am so angry with myself right now! I did not write a review for any of these three books even though I love them! I wanted them to myself haha. Just kidding. But seriously, read them.
Roth: I love him so much! Since the very beginning of this series he was mine. His whole personality drew me to him, especially when he goes alpha and possessive. Even though he is a Demon, he did everything right in my book. The way that he protected Layla and his love towards her, swoon! Going through quotes of Roth and how in love with him I am, I will share some quotes with you, so you can fall in love with him too. I mean how can you not? You would have to be insane not to love Roth. Be prepared. These quotes are everything.
"I, Astaroth, Crown Prince of Hell, am in love with you, Layla Shaw. Yesterday. Today. Tomorrow. A hudred decades from now, I will still be in love with you, and it will be as fierce today as it will be a decade later."
"You make me wish I had a soul so I could be worthy of you."
"Roth lowered his forehead to mine as he brought our joined hands to his chest, placing them above his heart. "And I love you," he said. "With every breath I take, I will always love you."
"You are so beautiful, Layla. And if I could pick one thing I could stare at for the rest of eternity, it would be you."
"Because you're beautiful, Layla, and while I may say that one word to you a lot, I don't simply toss it around. And I've seen many, many beautiful things. People as beautiful as demons are atrocious. You, by far, shine brighter than any of them. It's more than what's on the outside. It comes from within you. I've seen a lot of things and nothing, nothing, comes close to you."
DARE TO DREAM BY S. B. ALEXANDER
If you are wondering why it took me so long to write this post, blame this book. And the author. I was writing my post a few days ago but I decided to read Dare To Kiss, the first book in this series. I couldn't put it down because it was so good. It captured my attention and I love the story of Lacey and Kade Maxwell. That is why it took me forever to write this post because I HAD to finish this book. I knew right away that I couldn't not include it on my list. It NEEDED to be here. It deserves to be here. These two books are so good. I fell in love right away. I literally just finished reading this book and I right away set out to write it on my Top Ten list. I am so glad that I discovered this book before the New Year!
Kade Maxwell: He is a hunk of a man! He is so amazing. The way he protects his bothers and Lacey? It is so sweet and amazing. He carries a lot of weight but the fierceness in him is so hot. The way he commands attention? I love it. I don't even know what else to say other than that you need Kade Maxwell. I can't wait for the next book. I am so excited to have more of him!
"God I loved that girl. I needed her. She was sunshine. She was my future."
"But I'd learned with Kade that touching was more sensual, more intimate than a kiss. Touching evoked tingles, shivers, butterflies, and a sensual feeling that traveled from head to toe, front to back, and side to side."
"Baby, I would follow you to heaven or hell. I would die for you. You know that."
"His arms sucked me in, his mouth crashed to mine, and he kissed me like I was his next breath. My heart beat a wild cadence as I returned the kiss."
These books also deserve to be mentioned! I had such a hard time choosing but these books also have to be read. There are so many good books out there and I am happy to discover them. I am excited for the new year to come. I am ready to read more amazing books!