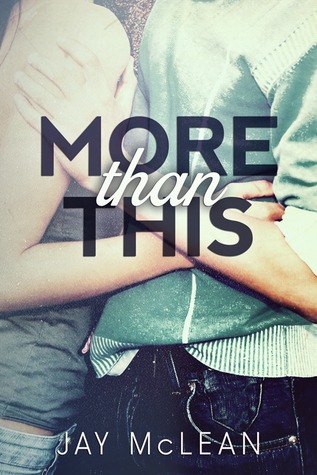 Book Synopsis




When Mikayla imagined her prom night, she envisioned a fairy-tale evening full of romance. So when betrayal and tragedy come in quick succession, Mikayla is completely destroyed. Suddenly, everything she loved and everyone she relied on are tragically, irrevocably gone.




Jake, a handsome boy she just met, happens to witness her loss. With no one to turn to, Mikayla is forced to depend on this near stranger and his family, and he in turn is determined to take care of her. But Mikayla—thrust into adulthood with no one to guide her—is desperate to contain her grief and hide what she considers to be her weakness. Mikayla and Jake both want more, but despite their growing closeness and intense chemistry, she tries to keep her distance and protect her heart. As he does everything in his power to win her trust, Mikayla must choose between remaining alone and safe or letting love in.
Book 1 -

More Than This Book 2 - More Than Her

Book 3 -

More Than Him

Book 4 -

More Than Forever


Book 5 - More Than Enough

Release date: November 16

Goodreads
I
was re-reading this book in a group re-read in anticipation of More Than Enough, which is book 5 in this series. It is releasing soon (November 16) and I am so ready for this book! Dylan Banks I am ready for you! #AManOfFewWords
So anyways, this was an easy pick for Midnight Monday because it is one of my favorite reads ever. Jay McLean is my favorite author too so this pick is that much sweeter.
This book tore me apart once again. I was dying inside and desperately crying my eyes out. I hadn't felt so much heartbreak in a book in so long. It was crazy how much it hurt. I don't even know what to say because only Jay McLean can do these things to me and not make me hate her. This book is everything to me and it just makes me feel like I need a Jake Andrews in my world.
Lets talk about Jake, the epic book boyfriend. Well first, I noticed all the small details that make Jake such an amazing character. I was able to recapture the moments he shared with Mikayla in this amazing re-read. The sweet gestures, the words, and his love for Kayla just blew my mind. In the greatest time of need Jake was there for Kayla. The heartbreak she went through would have killed her if she didn't have Jake. He cared for her and they did have a lot of problems, like them not talking to each other or sharing their how they felt for one another. Despite this their love was amazing. I don't even want to share anything else because I want you to experience this for yourself.
"She's looking at me with so much emotion, that I hope to hell that I'm reader her right, that the look she's giving me is telling me everything I want to hear. That she believes in fate. In love. In us. Forever.
Why is Jake swoon worthy you ask, well let me explain. First off he has this amazing Australian accent. That is hot! If that isn't enough for you then he is a baseball player! Who doesn't love a man in gear? Imagine him in his baseball uniform! *slightly faints* If that is not enough and personality is your thing, then you will definitely fall for his character traits. He is caring, comforting, and incredibly considerate. The amount of times he would kiss Kayla on the temple just about did me in!
We're looking so intently into each other's eyes, trying to see into each other's souls.

Talking without speaking

Felling without touching.
The book itself is really well written and I am glad that Jay includes laughter in moments of grief. It is hard to go through a devastating situation and it brings a lot of tears. The way Jay writes different scenes is genius. She had me laughing throughout the book with all the crazy things that are said. For example: "My man would never touch you, you fucking slut! You're so fucking ugly it's like your face caught on fire, and someone tried to put it out with a goddamn fork!" If your wondering who this is, well her name is Lucy but when she gets drunk she turns into Drunk Lucy and that is hilarious. She is just one of the other characters in the books and she is my favorite. By the way all the side characters are so strongly developed and they did get their own story in the following books in the series.
And then he kisses me. A quick kiss on the lips, But it has the passion of a thousand kisses, and holds the power of a thousand promises.
I think that is all I have to say but I strongly encourage you to buy this series now! It is amazing. Drunk Lucy would agree and if you don't she would scream "I'll cut a bitch!" Her words, not mine.