Top 10 Books I have recently added to my TBR pile
I have a huge amount of books that I have added to my TBR pile, thanks to meeting some amazing ladies, I have been bombarded with recommendations. I have tons of books now, and a lot of new to me authors! I get recommendations daily so it is going to be hard to choose which ones to pick. I have a ton more than ten books. I recently started a TBR Wine Glass to help me with picking books because I have too many and I never know which one I want to choose. Hopefully I can keep up with it. Does anyone recognize that wine glass? It's from Scandal! A show that I am currently obsessed with. How do y'all manage your TBR pile? I would love to know!
1.
The Club by Lauren Rowe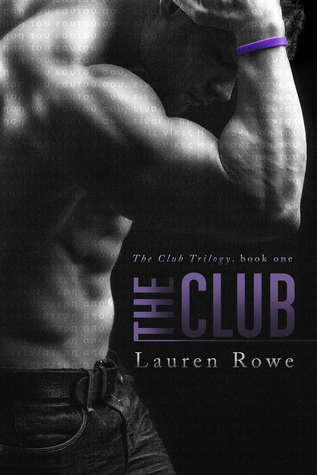 When playboy businessman Jonas Faraday receives a private note from the anonymous intake agent assigned to process his online application to an exclusive club, he becomes obsessed with finding her and giving her the satisfaction she claims has always eluded her, in order to fulfill his own desperate need for redemption.




Sarah:

"When I read Jonas Faraday's brutally honest personal message on his application to The Club—I practically climaxed at my desk. I'm an idiot to risk losing my job but I couldn't resist contacting him. I knew my confession would be like dangling an irresistible carrot in front of his nose—but never in a million years did I think he'd actually hunt me down."

Jonas: "I was shocked to get my intake agent's email—I'd attached that note to my application on a whim, never expecting a reply from an actual person, let alone a reply as mind blowing as that. Her message was so alluring, so irresistible, I've been spiraling into a full-blown obsession ever since I got it. What's her name? What does she look like? Finding her is my top priority."

In The Club, what starts out as an innocent exploration of attraction quickly spirals into a steamy story of unbridled passion, obsession, heartbreak, and, ultimately, redemption.
2.

Archer's Voice by Mia Sheridan
When Bree Prescott arrives in the sleepy, lakeside town of Pelion, Maine, she hopes against hope that this is the place where she will finally find the peace she so desperately seeks. On her first day there, her life collides with Archer Hale, an isolated man who holds a secret agony of his own. A man no one else sees.




Archer's Voice

is the story of a woman chained to the memory of one horrifying night and the man whose love is the key to her freedom. It is the story of a silent man who lives with an excruciating wound and the woman who helps him find his voice. It is the story of suffering, fate, and the transformative power of love.

THIS IS A STANDALONE SIGN OF LOVE NOVEL, INSPIRED BY SAGITTARIUS. New Adult Contemporary Romance: Due to strong language and sexual content, this book is not intended for readers under the age of 18.
3.

Bully by Penelope Douglas
My name is Tate. He doesn't call me that, though. He would never refer to me so informally, if he referred to me at all. No, he'll barely even speak to me.




But he still won't leave me alone.

We were best friends once. Then he turned on me and made it his mission to ruin my life. I've been humiliated, shut out, and gossiped about all through high school. His pranks and rumors got more sadistic as time wore on, and I made myself sick trying to stay out of his way. I even went to France for a year, just to avoid him.

But I'm done hiding from him now, and there's no way in hell I'll allow him to ruin my senior year. He might not have changed, but I have. It's time to fight back.

I'm not going to let him bully me anymore.
4.

Oblivion by Jennifer L. Armentrout
Experience the epic love story of OBSIDIAN as told by its hero, Daemon Black…




I knew the moment Katy Swartz moved in next door, there was going to be trouble. Lots of it.

And trouble's the last thing I need, since I'm not exactly from around here. My people arrived on Earth from Lux, a planet thirteen billion light years away. Plus, if there's one thing I know, it's that humans can't be trusted. We scare them. We can do things they only dream about, and honestly, we make them look weak as hell. 'Cuz they are.

But Kat is getting to me in ways no one else has, and I can't stop myself from wanting her—or wanting to use my powers to protect her. She makes me weak, and I'm the strongest of our kind, tasked with protecting us all. So this one simple girl…she can mean the end for us. Because the Luxen have an even bigger enemy—the Arum, and I need to stay on my game.

Falling for Katy—a human—won't just place her in danger. It could get us all killed, and that's one thing I'll never let happen...
5.

Dirty Ugly Toy by K Webster



She's dirty and ugly.

He's wicked but handsome

.

Six months to toy with her.

Six months of vacation and a ton of money

.

I'll hurt her beyond repair.

I've been through much worse

.

She's difficult to control and doesn't obey.

I'm done submitting to anyone or anything in this life

.

I should hate her.

The game has changed.

Dirty Ugly Toy is a novel that blurs the lines of right and wrong, deals with abuse, contains dubious consent, and adult subject matter. If you are sensitive to violent sexual situations, the book may not be suitable for you. Some parts of this book are not easy to read and are not intended for everyone. However, those that keep an open mind and stick with it will not be disappointed.
6.

Anarchy Found by JA Huss



That's what Detective Molly Masters tells me. "What we need," she says, "what the whole world needs," she pleads, "is a champion."

The only thing I want to talk about with Molly Masters is how I'd like to make her scream my name when I push her up against a wall, slide my hand up her thigh, and live out my wildest fantasies.

"Someone who will fight against injustice," she says.

I'll fight against anything you want, honey. Just come a little closer.

"Someone who will stand tall in the face of adversity," she says.

I'll do it standing, sitting, or lying down. See how easy I am?

"Someone who believes in the value of a good deed," she says.

I believe in the value of me, sweetheart. Because I'm Lincoln Wade. Jaded genius, obscenely wealthy, capable of violence, and looking for revenge.

Molly Masters might have delusions of grandeur. She might see me as some superman capable of cleaning up the scum, filth, and corruption in Cathedral City.

But I'm not the hero she's looking for.

I'm the dark alley where all her good intentions hide.

So be careful what you wish for, Molly Masters.

Because you're about to get it.
7.

Unfinished by Shae Scott






Sometimes life begins with a second chance.

On graduation night, Ally Montgomery walked away from her best friend, Owen. One night changed them forever. One night, one decision to cross the line of friendship, one decision to walk away.

Ten years later, Owen finds her.

And this time, they're not letting anything go unfinished.
8.

Sweet Addiction by J. Daniels
Wedding hookups never amount to anything.




Those who partake in this wicked little activity know the rules. Get in. Get laid. Get out. There's no expectation of a relationship. It is what it is.

Dylan Sparks knows the rules. She's familiar with the protocol. And she engages in the best sex of her life with a complete stranger at her ex-boyfriend's wedding.

Reese Carroll doesn't care about the rules. He wants more than just one night with Dylan.

And Dylan finds him too addicting to pass up.

Sweet Addiction is the story of one woman's struggle to keep things casual, and one man's desire to never let her go.
9.

Underneath It All by Kate Canterbary
If I had known I'd have a hot architect balls deep inside of me before the end of the weekend, I'd have made time for a pedicure.




It's all the little things—the action plans, the long-kept promises—that started falling apart when my life slipped into controlled chaos.

After I met Matthew Walsh.

I couldn't decide whether I wanted to run screaming or rip his pants off, and most days I wanted a little of both. If I was being honest with myself, it was rip his pants off, ride him like a workhorse, and then run screaming.

A rebellious streak ran through Lauren Halsted. It was fierce and unrelentingly beautiful, and woven through too many good girl layers to count, and she wasn't letting anyone tell her what to do.

Unless, of course, she was naked.

She wasn't looking for me and I sure as shit wasn't looking for her, but we found each other anyway and now we were locked in a battle of wills, waiting for the other to blink.

Sometimes the universe conspires to bring people together. Other times, it throws people down a flight of stairs and leaves them in a bruised and bloodied heap.
10.

Complicate Me by M. Robinson
It was complicated, it was also just the beginning.




There is always that one moment in life where things could have been different. That one moment where you could have chosen a path that would lead you down a certain road.

It was easier to pretend that we were still best friends, and that she was my girl and I was her boy.

Pretending was better than knowing the truth...

All I did was complicate us.