A Court of Mist and Fury by Sarah J. Maas
Feyre survived Amarantha's clutches to return to the Spring Court—but at a steep cost. Though she now has the powers of the High Fae, her heart remains human, and it can't forget the terrible deeds she performed to save Tamlin's people.

Nor has Feyre forgotten her bargain with Rhysand, High Lord of the feared Night Court. As Feyre navigates its dark web of politics, passion, and dazzling power, a greater evil looms—and she might be key to stopping it. But only if she can harness her harrowing gifts, heal her fractured soul, and decide how she wishes to shape her future—and the future of a world cleaved in two.

Rhys has to be my favorite book boyfriend of all time. He is my husband and my one true love. I can't even believe just how perfect he is. I loved everything about him since I first met him, but in ACOMAF he just blew me away. Rhys and his trust and belief in Feyre was astounding. I love that he just supports and trust her and lets her take charge. And even with all that, he is still so powerful and it attracts me to him even more. The action and the journey this book took me on was amazing. I loved everything about this book. I can't wait for more of him in book 3. I have told everyone and anyone that they need to read this book. And I mean that. Go read these books.
Favorite Quotes:

"To the stars who listen and the dreams that are answered."
"And I wondered if love was too weak a word for what he felt, what he'd done for me. For what I felt for him."
"I sipped from my wine. "And if he had grabbed me?"
There was nothing but uncompromising will in his eyes. "Then I would have torn apart the world to get you back."
In a sprint, every millisecond counts.

When you're waiting for love, those milliseconds can feel like eons.

High school senior Lucas Preston has it all: star of the track team, a scholarship waiting for him, an apartment to himself and a revolving door of girlfriends. He also has an older sister, five younger brothers and a father who relies on him to make sure those brothers don't kill each other.

His saving grace? Lois "Laney" Sanders, a girl he started to fall in like with when he was just eleven.

A girl who became his best friend, his confidant, his courage.

It took only sixteen clicks and eight seconds for Lucas to realize that his like for Laney had turned into love.

Eight life-changing seconds.
Oh, Lucas. This book just tore me apart and made me FEEL. Jay McLean is unlike any other author. She knows how to write with deep emotion and gripping feelings. I could not put this book down. Lucas was not perfect. In fact, most of the times I wanted to stab him. As the book continued, I saw him grow and develop and become an amazing man. It was not an easy journey, but he was always learning. Lucas is one of my absolute favorite book boyfriends written by Jay. The other main character, Laney, was one of the best female characters I have read this year. She was so strong and beautiful and genuine. I connected to her and felt all her drowning emotions and feelings. It was as if I was inside her feeling all the things. Like I have said before, if you haven't read Jay McLean go do it now. She will blow you away.
Favorite Quotes: "It is hard to control your body, your lust, your desire. Especially when it's connected to a girl you've been in love with before you had a grasp on what love was."
"Sixteen clicks. Eight Seconds. That's how long it took me to realize I'd been in love with her for four years. Eight, life-changing seconds. It's also the exact length of time it took me to lose her."
It End With Us by Colleen Hoover
SOMETIMES THE ONE WHO LOVES YOU IS THE ONE WHO HURTS YOU THE MOST

Lily hasn't always had it easy, but that's never stopped her from working hard for the life she wants. She's come a long way from the small town in Maine where she grew up - she graduated from college, moved to Boston, and started her own business. So when she feels a spark with a gorgeous neurosurgeon named Ryle Kincaid, everything in Lily's life suddenly seems almost too good to be true.

Ryle is assertive, stubborn, and maybe even a little arrogant. He's also sensitive, brilliant, and has a total soft spot for Lily, but Ryle's complete aversion to relationships is disturbing.

As questions about her new relationship overwhelm her, so do thoughts of Atlas Corrigan - her first love and a link to the past she left behind. He was her kindred spirit, her protector. When Atlas suddenly reappears, everything Lily has built with Ryle is threatened.

With this bold and deeply personal novel, Colleen Hoover delivers a heart-wrenching story that breaks exciting new ground for her as a writer. It Ends With Us is an unforgettable tale of love that comes at the ultimate price.
After months of reading this book it still affects me. I can still feel the power of it's words. This is how I know that this book deserves to be on this list. It is just too good and real not to be included. I won't talk about this book or tell you much about it because I would ruin it. It needs to be experienced and felt. I cried and I felt all kinds of emotions. This book is not typical and it is not something that a lot of people expect. Sure, it has romance, but that is not what this books is about. It will open your eyes in so many ways. It will leave you questioning and wanting to be brave and bold. It is some of the best work I have ever read.
Favorite Quotes: "He pulls back to look down at me and when he sees my tears, he brings his hands up to my cheeks. "In the future... if by some miracle you ever find yourself in the position to fall in love again... fall in love with me."
"All humans make mistakes. What determines a person's character aren't the mistakes we make. It's how we take those mistakes and turn them into lessons rather than excuses."
Four Letter Word by J. Daniels
Fate. Hate. Love. Lies.

Which four letter word will change their lives forever?

Sydney Paige was never so mortified to hear the words "wrong number" in her life. She meant to tell off the guy who broke her best friend's heart but unleashed her anger on a perfect stranger instead. And now her world is turned upside down by the captivating man who wants to keep her on the line.

Brian Savage is living a life he's quickly come to hate-until Sydney's wild rant has him hooked and hungry for more. Soon the sexy woman on the phone becomes the lover in his bed. But Brian has secrets, and the closer he lets Syd get, the harder it is to shield her from the devastating mistakes of his past...
I have never read any books by J. Daniels. This was my first book and I fell in love with it. I became obsessed with this book. I couldn't put it down and I was drowning in her words. This book blew me away and I was hooked to it from the beginning all the way until the end. Brian was a dream. He was so perfect and loving and caring. His compassion and care melted me. Sydney was such a beautiful woman that learned so much about herself in this book. I loved that this book was different and hot. The whole story was unique and I LOVED that. I will forever be obsessed with this book. Now I am off to read every J. Daniels book to that exists.
Favorite Quotes: "Love was a risk. It was wild and unpredictable. You could either hold on for the ride, not knowing how it would end, or you could let go and never know the amazing you could have had."
"I fell in love with Wild's voice in my ear. Now I had her in my arms while she was giving it to me, and I was out of my fucking mind lost for this girl. There was no turning back.
I'd be anything she needed. I'd be everything she needed."
The Playbook by Kelly Elliott
My life revolved around two things. Football and my cock. And not necessarily in that order.

Being the head football coach for a top university in Texas had its ups and its downs.

The ups? Endless women to f*ck.

The downs? The politics that came with the job.

From the moment Aubrey Cain walked into my office, she turned my world upside down. Being forced to have her follow me around for a month was going to be a pain in the ass. Especially since I couldn't keep my eyes off of her.

The best I'd hoped to come out of this was a few nights with her in my bed. I never imagined she'd be the game changer.

Brett Owens was my assignment.

Head football coach for a top college, bad boy reputation, short temper, and handsome good looks should have scared me off. But I was tougher than that.

From the first words out of his obnoxious, dirty-talking mouth, I knew it was going to be a long month. It wasn't five minutes after meeting him, he hit on me. If only I had known his blue eyes would haunt my dreams and awaken a desire inside of me I never knew existed.

This was business. There was no way I would be tempted by him no matter how good looking he was or how many things he whispered in my ear.

He was only supposed to be my assignment. Not the man who threatened to destroy both my heart and my career. I would follow along with his playbook for now. But who would end up winning was anyone's guess.
Kelly Elliott has to be one of my favorite authors. I read all of her books that she publishes. They Playbooks was so good and so different from her other books. It was hot and sexy and fun. It made me blush and fall in love with Brett Owens. He was just something else. And as for Aubrey, she is one of my favorite Kelly Elliott heroines. I saw so much of her in me. I just loved reading this book and falling deeper in love with these characters. This story is pretty amazing.
Favorite Quotes: "He leaned closer, his lips inches from mine. "The only woman I want trying to get into my pants is the one I'm about to kiss."
"She could make my worst day feel like it is the best day of my life."
Empire by Rachel Van Dyken
I have lost everything.
My purpose.
My love.
My soul.
Death knocks on my door, I want to answer, but every time I reach for the handle--the promise I made her, brings me back.
So I breathe.
I live.
I hate.
And I allow the anger to boil beneath the surface of a perfectly indifferent facade.
I am broken, I dont want to be fixed.
One last trip to New York, one last chance to redeem a lost part of the mafia family. The Empire is crumbling and it's my job to fix it, my job to mend the pieces that were scattered over thirty years ago.
The only issue is, the only way to fix, is to do something I swore I'd never do again.
An arranged marriage.
Only this time.
I won't fall.
Or so help me God, I'll kill her myself.
My name is Sergio Abandanoto, you think you know my pain, my suffering, my anger, my hate--you have no idea.
I am the mafia.
I am the darkness.


Blood in. No out.
No words for this book. I LOVE this book so much. I love RVD so much for her words. To say I was scared to read Empire is an understatement. I was terrified. I suffered through Elude, and to go into this book, I could barley function because I just kept thinking of the previous book. I didn't want to move forward just like Sergio didn't want to either. We were both hurting and feeling such sadness. As I kept reading I started to fall more and more in love. This book brought on more feels than ever, but it also healed me. I made me whole again. It was perfection. This series is perfect. I love every book more and more but Sergio will always be my number one mafia boy.
Favorite Quotes:
"The course of true love, never did run smooth."
"I didn't want to be saved. No saving was needed. Because the truth of the matter was, I wasn't really lost. I was just… empty."
"That's the thing about pain. You live with it, you embrace the rightness of it , until someone finally reaches through the broken glass, and grabs ahold of the real you, the you that had been lost and hurting. Broken and bleeding, they hold on for dear life, refusing to let go. They join you in your pain."
"Our love would be ugly, deformed, awkward. It would be so many things, but I hoped, that in the end, above all else, it would be good enough."
"Beasts are fierce because they protect what they love."
"My lips buzzed while my body craved the nearness her soft curves promised."
Away From The Dark by Aleatha Romig
Nine months ago, Sara Adams awoke with no memory. The man holding her hand told her she's a member of The Light, a tight-knit religious group led by the terrifying and charismatic Father Gabriel. As a woman in the community of The Light, her duty is to be unquestionably obedient and to submit to the will of her husband.

But as Sara's memory starts to return and she remembers her past, she sees that everything she's been told is a lie. The Light is an insidious and dangerous organization, and its corrupting influence reaches well beyond the confines of the remote campus where Sara is being held.

With everything at stake, Sara struggles to sort out her true memories from her indoctrination. The desire to escape consumes her, but who can she trust? And which other followers of The Light were forced into this life, brainwashed to believe they belonged? The more she remembers, the more it becomes clear that Jacob, the man who calls himself her husband, is keeping shattering secrets of his own.

But Sara cannot flee alone, leaving innocents behind. She must fight to extinguish The Light.
There has never been a book that has thrilled me and made me feel so much anxiety like this book right here. I was blown away by this book and book 1. I have not read anything like this before. I am addicted to these books. I tell everyone to read them. These books are weird. They are strange, but they are intriguing. I can't say much anyway because if I did you all would be confused and think I am crazy. So just go and read them and experience a whole new world.
Favorite Quotes: "Fear happened for a reason, and I needed to embrace it. To survive this I needed both. The peace and the panic."
"With only a whisper of distance between us, his lips crashed over mine. Their warmth was the fire that ignited my body in a way I no longer wanted to admit. "
"I've loved you since the first time I saw you, and now, the more I learn about you, the more I love."
Say You Want Me by Corinne Michaels
There's no way I'll fall for Wyatt Hennington.

He can keep his Southern drawl, irresistible smile, and those pick-up lines all to himself. I made the mistake of sleeping with him not once, but twice. I'm not stupid enough to give him round three, especially after he left me in the middle of the night so I could see myself out. I vow to return to Philadelphia and forget him.

It proves easier said than done.

When the doctor informs me I'm the winner of door prize number two, I put my life on hold and head back to Bell Buckle. Three months and if we can't make this work, I'm gone.

The problem is—when the cards are stacked against us, and I can't bring myself to leave him, I'll finally know if he truly loves me or if all my fears were real…
Say You Want Me by Corinne Michaels is a book that made me feel and wonder and think and ponder. It was just unbelievable what a hot cowboy does to me. Wyatt was my favorite since getting introduced into this series in Say You'll Stay. I fell in love with this attitude and his personality. He was everything I was expecting and infuriating too. By the end of the book thought, I fell in love with all of him. That stunt at the end really grabbed me. Oh, Wyatt you just know how to make a woman swoon.
Favorite Quotes: "I don't know if we're right for each other. I don't know if I'll come out of this thinkin' you're a pain in my ass that I hate, or the girl I want to come home to." His eyes hold mine captive, and I wait for him to keep going. We stand in the middle of the dance floor, lost to each other as other couples move around us. "I do know this, honey. I won't walk away without finding out."
"You're mine because I want you to be."
His grin grows playful. "You will be again."
"Does that mean that you're mine?"
"I've never been anyone else's."
"I love watching your walls crumble. I love watching your reasons diminish. I'm really going to enjoy it when you finally realize just how much you want me." His voice drops, and he looks at me again, serious this time. "Because make no mistake— you'll want me. I'm makin' damn sure of it."
One life-changing summer.


One boy.

The boy.

The boy who offered me safe touches and heart-stopping smiles - smiles he shared with his son.

We filled our days with porch-step kisses,
filled our ears with laughter,
filled our hearts with love.


Deep, soul-aching, desperate love.

But love is misleading.

It's an invisible, fleeting moment.

Somewhere between false adoration and pure hatred comes an emotion, a vulnerable need, a single desire.

It lives within the ones who miss it, who crave it,


who know better than to expect it.

Love is relentless.

Even when that love turns to hate, turns to loathing,
turns to pain.
Love should heal you.
But it can also break you.


Believe me, I know...

Because I'm Becca Owens - a broken girl...

...And he's Josh Warden - the boy who broke me.
Coast is a book that you feel very deep in your heart. It is heartbreak and tears. It is a bumpy ride. You fall, you hurt, you break, but eventually you heal. This is what this book feels like. I couldn't escape the emotions. I felt every piece of this book. I was destroyed. Jay McLean kills and revives me every time with her book. Coast was no different. Josh Warden, Becca, and Tommy are my heroes. In this book they grow and they learn so much about life. I loved every second of this book, even the times where I couldn't breathe.
Favorite Quotes: "I'm here now, and I'm not letting you go until I give you everything I am … And if it's still not enough, if you still won't believe me, then I'll keep trying. Over and over. Until you realize that you could have come to me shattered, broken, in an infinite of pieces, and I would've made you whole. I would have loved you. Every damaged piece of you. In all ways and for always."
"We loved in ways that can't be explained, hurt in ways that can't be justified."
"We fall. We get back up. We kick. We push. Again and again. Because the joy of success is greater than the depression of failure."
"I kissed him that day, his lips warm and soft across my mouth. The taste of his kiss forever scarred on my lips, lips that have longed for him."
Dirty Little Rendezvous by Emma Hart
Sometimes the past becomes the present... And he's hot, cocky, and British.

Leila Burke expected a lot of things when she joined her brothers on tour in Europe. He wasn't one of them.

Jase Masters had no idea what to expect when he agreed to support Dirty B. on tour. She definitely wasn't it.

It's been eighteen months.

He remembers that night a little too well.

She insists she has no idea who he is.

He's rugged and determined.

She's wild and free.

Together, they're a tornado.

Keeping it from touching down is the least of their worries.
Jase and Leila were made to be. This book was just absolute perfection. It was like I was submerged in my own fairytale. This book was that good. I was feeling complete and loved. Jase literally ruined every rock star out there. He melted my heart and gave it little earthquake. This book made me feel whole.
Favorite Quotes: "
She's the girl you write songs about. Not just any song though. The songs that makes albums that go to number one worldwide and go on to be platinum... She's the girl that makes you sing them from their god damn soul."
"I want to be kissed the way they kiss in my books... With everything except resttraint or concern for the rest of the world. For even two minutes, I want to feel like I am the world."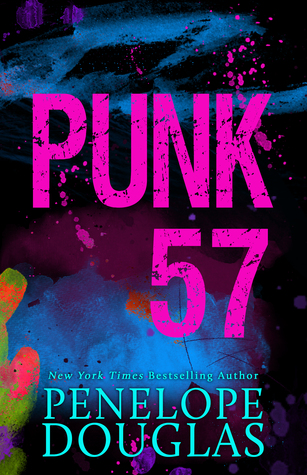 Punk 57 by Penelope Douglas
"We were perfect together. Until we met."

Misha

I can't help but smile at the words in her letter. She misses me.

In fifth grade, my teacher set us up with pen pals from a different school. Thinking I was a girl, with a name like Misha, the other teacher paired me up with her student, Ryen. My teacher, believing Ryen was a boy like me, agreed.

It didn't take long for us to figure out the mistake. And in no time at all, we were arguing about everything. The best take-out pizza. Android vs. iPhone. Whether or not Eminem is the greatest rapper ever…

And that was the start. For the next seven years, it was us.

Her letters are always on black paper with silver writing. Sometimes there's one a week or three in a day, but I need them. She's the only one who keeps me on track, talks me down, and accepts everything I am.

We only had three rules. No social media, no phone numbers, no pictures. We had a good thing going. Why ruin it?

Until I run across a photo of a girl online. Name's Ryen, loves Gallo's pizza, and worships her iPhone. What are the chances?

F*ck it. I need to meet her.

I just don't expect to hate what I find.

Ryen

He hasn't written in three months. Something's wrong. Did he die? Get arrested? Knowing Misha, neither would be a stretch.

Without him around, I'm going crazy. I need to know someone is listening. It's my own fault. I should've gotten his number or picture or something.

He could be gone forever.

Or right under my nose, and I wouldn't even know it.
So I just finished reading Punk 57 by Penelope Douglas after I started this list. I knew from the moment I started reading that this book was an absolute MUST and I needed to include this on my top books of 2016. This book was so amazing. So good. So true. It was an incredible piece of art. I just fell in love with the whole book. Sure, I hated it. It wasn't your typical book and that's why by the end I fell in love with it a little more. The heroine is horrible. She is mean and rude and plain nasty at times. That is why I loved it. Because we are not all perfect and a book finally showed this. It shows the ugly side of people and how sometimes we can change and grow. This is what happened in this book. Plus, the guy, Misha, was INCREDIBLE. I fell in love with him and his character. His purpose, his mission, his being. By the end of this book I was hypnotized by Ryen and Misha. I can't recommend this book enough. It deserves to be read and hated, but then automatically loved. There is not way around that and it must be experienced.
Favorite Quotes:
"We're all ugly, Ryen. The only difference is, some hide it and some wear it."
"It gets better, you are important, and you can't be replaced. Hang on. You'll fing youre tribe."
"You don't have to be afraid or embarrassed. No one does you better than you. You can't be replaced. Not everyone will see that, but only you need to."
"I have no life there if you're not in it. You're part of everything good I've ever done, Ryen.
Honorable Mention
This year has been one of the best reading years I have had. I read so many amazing books! It was great book after great book. I am amazed by the incredible writing and the amazing authors I have met this year. I also had to include these books that I LOVED as well. All of them are so incredible and I am so happy to have had the chance to read them!