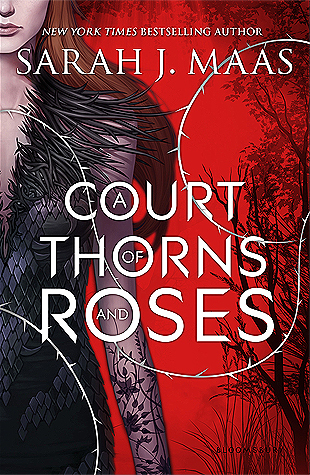 When nineteen-year-old huntress Feyre kills a wolf in the woods, a beast-like creature arrives to demand retribution for it. Dragged to a treacherous magical land she only knows about from legends, Feyre discovers that her captor is not an animal, but Tamlin—one of the lethal, immortal faeries who once ruled their world.

As she dwells on his estate, her feelings for Tamlin transform from icy hostility into a fiery passion that burns through every lie and warning she's been told about the beautiful, dangerous world of the Fae. But an ancient, wicked shadow grows over the faerie lands, and Feyre must find a way to stop it... or doom Tamlin—and his world—forever.
Review
A Court Of Thorns and Roses awoke my love for fantasy. I didn't know that I needed this book as much as I did. I had this book on my shelf since release day and I have no clue why I was putting it off. I should have picked it up sooner. I did a Instagram buddy read with Crystal @bookiemoji and Isabel @books.upon.a.time! It was amazing to have these two lovelies to talk ACOTAR with! It made the book that much more enjoyable!
ACOTAR was a lovely retelling of Beauty and the Beast. Feyre ends up going to the woods to search for food for her family, instead she ends up killing a wolf that changes her fate. A scary beasts comes and retrieves her from her home and takes her a way to a land that she has been told to fear. Immortal faeries are something to be scared over, but soon Tamlin, the one who captured her, starts to grow on her. And now she is the one that has to save the Fae from evil. Can Feyre, just a human girl, save these immortal faeries and the lands from destruction?
Although Tamlin was this beautiful and sweet beast, I wasn't FEELING him. I usually love the characters right away. He had these unbearably sweet moments with Feyre and they were nice. I did not know why I couldn't get into this guy until I reached the end! The end is exactly what I was waiting for. I was waiting for a spark. For someone to awaken my feelings. And then boom. I am hit with all the feels. I shouldn't be. I should be loving Tamlin, but I just can't. He didn't cause that rise in me. I know why now and it makes me even more excited for book two, A Court of Mist and Fury!
As for Feyre, I LOVED her character. I loved that she was trapped but she was still her. She kept parts of her that were taken when she was taken by Tamlin. I loved that she didn't want to dress in those crazy dresses. She wanted to keep her simplicity. She was also able to discover something she loved, painting. I loved that part of the book. Where she would paint for hours, but that also made me sad. Her bravery and devotion in the end was powerful. I loved her strength and her will. I was even more excited when something marked her because that meant MORE. More what? Well I can't say but it will be a very, very interesting thing that I will get more of in ACOMAF.
ACOTAR was just the beginning of something marevelous. I can't wait for the journey to continue in ACOMAF. I took a quick break to write this review but I am going back in to the land of the Fae! I can't wait to read more!