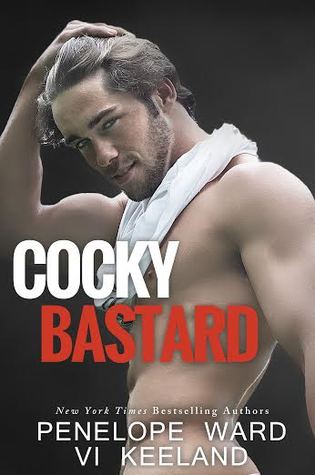 He was someone who belonged in my wildest fantasies instead of a rest stop in the middle of Nebraska.

A sexy, cocky, Australian named Chance was the last person I expected to run into on my cross-country drive.

When my car broke down, we made a deal. Next thing I knew, we were traveling together, spending sexually-tense nights in hotels and taking unplanned detours.


My ordinary road trip turned into the adventure of a lifetime. It was all fun and games until things got intense.

I wanted him, but Chance wouldn't make a move. I thought he wanted me too, but something was holding him back.


I wasn't supposed to fall for the cocky bastard, especially when I knew we'd be going our separate ways.

All good things must come to an end, right?


Except our ending was one I didn't see coming.
Review
I have heard numerous amount of things about Cocky Bastard but I did not expect what I got. I was told by some of my book besties that I would enjoy this book. All they mentioned was something about a goat. I was intrigued right away since I own and love goats with a passion! It took me a while but I finally decided to pick it up and it was one of my best reads this year. I literally had tears coming out of my eyes with how funny this book was! I couldn't control my laughter at times. I even had to put the book down sometimes. Penelope Ward and Vi Keeland I am in love with you both. Cocky Bastard was a remarkable read that had me on the edge of my seat. My heart was pounding with the amount of laughs this book pulled from me. You both are incredible!
This is the part where I usually give a little bit of a summary of the book but this time I am skipping it because I have way more things to talk about and it will be too long! So here I go.
Since the very beginning this book starts off with both Chance and Aubrey. It picks up right away and I love that about this book. It was amusing from the start. Chance is exactly what the title says; he's a cocky bastard. I loved that it had a quick explanation and the tile matches this book perfectly. Chance is very cocky but by the end of this book he is everything you want in a man!
Chance is what I think of when I hear the words bad boy. From the get-go he had this aura about him that warned you to stay away but you ignore that and jump right on him. I mean how could you ignore that hunk?! He had me from the start. He had this cockiness, but this underlying sweetness that would seep out of him at times. It made him so loveable. As the story unfolded and I got more of these two characters I was rooting for them hard! I knew they were destined to be together. And the accent he had?! Ugh take me now! Incredibly sexy. But then things started to get intense. One day it's the best day ever but then the following day everything shatters. I wanted to punch Chance where it hurts the most! Since the very beginning I was getting Aubrey's POV so I hurt bad for her. But then bam, a twist. It was about half way when the story changes to Chance's POV and I got it. I got everything. It made my heart hurt. Penelope and Vi created an amazing story. It was perfect and they knew what they were doing! I am extremely grateful that they wrote this book this way! It gave the story depth and so much more meaning this way.
Once the story changed POVs I wondered what happened to Aubrey. It was hard to ignore her because I wanted so badly to know what happened to her. Time had passed between the switch of POVs so it was a whiiiiile later! After this I began loving Chance again. He did everything right from this point forward and I was in love with him! He was sweet, gentle, and amazing.
Aubrey I freaking love you! I swear that Aubrey is me! Like how amazing is it that she has a goat and she walks it?! I died laughing because I walk my goat too! That's when I knew we were soul mates. Ok, enough of that. The goat thing is better left unsaid! You have to experience it yourself in the book. Believe me it is much better that way. So at the beginning I loved Aubrey and what she was doing but then after the book moves forward and time skips by she wasn't my favorite! I was rooting for Chance and she was being stubborn. I understood her reasons but I needed her to just LISTEN. Ahh! I wanted to shake her and talk to her so she would just hear Chance. But overall Aubrey was amazing. She has a nice heart.
I am telling you, READ this book. Get it and read it right now. It was one of those books that had me excited from start to end. I haven't had a crush on a book like this for some time! It was the book to give you the perfect laugh and the heart stopping romance. A goat bound it all! Haha, not really but the goat is always important! Go read it! Seriously.