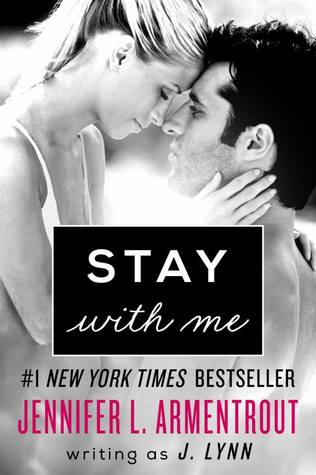 Stay With Me Review
by Jennifer L. Armentrout
"Each time I saw you, I felt like . . . I felt like I knew you a little bit better. I never talked to you but seeing you always smiling or laughing . . . or being peaceful . . ." He shook his head, and my heart spasmed. "There's something about that . . . it drew me in, Calla. Fuck. I fell for you before you even knew my name."
-Ok so this
quote
really tore me apart and it
made me fall in
love
with Jax like a thousand times more. I am so sure that if you read this book you will fall in love with Jax
immediately.
So anyways here is my
Review:
5 out of 5 Stars
So I LOVE Jennifer L. Armentrout and her books. They are amazing and Stay With Me did not disappoint. I mean how could it with sweet Jax who commands all your attention. He gave Cam quite the competition in the Hot Guy Brigade. I seriously thought Cam was my man but after meeting Jax I don't know who I like more. Jax is a complete sweetie and he captivates you since the beginning when he meets Calla at the bar. Calla returns home after a long time all because her horrible mother stole all her money that she was using to attend college. Calla had no choice but to go after her mother so that is how she ended up meeting Jax.
I love how their story starts because Jax is so commanding and he gets Calla to open up and not feel so insecure about herself. He is just a sweetie. When Calla is in trouble Jax is there to protect her and he will not let her be alone. He looks out for her and you can tell he really cares for her and he REALLY wants Calla. Calla can't understand why Jax wants someone like her. She feels insecure about the scar on her face but Jax doesn't care about it because he just wants Calla. He doesn't stop torturing her with his sexy and sweet words and I love it. I fell in him love quickly especially when he defended her in the bar. HE is so attracting and I am glad Calla, slowly but surly, starts to accept him. I love how he pushes Calla to do things but without pressuring her. This book was great and since I met Roxy and Reece I am excited for the next book and well lets just say I am going to have to wait a while to read that one. I really recommend all the books that JLA writes but the ones in this series are a must read first. They bring on all the feels and you can't help but fall in love with the guys.
Book Description:
At 21, Calla hasn't done a lot of things. She's never been kissed, never seen the ocean, never gone to an amusement park. But growing up, she witnessed some things no child ever should. She still carries the physical and emotional scars of living with a strung-out mother, Mona—secrets she keeps from everyone, including her close circle of college friends.
But the safe cocoon Calla has carefully built is shattered when she discovers her mom has stolen her college money and run up a huge credit card debt in her name. Now, Calla has to go back to the small town she thought she'd left behind and clean up her mom's mess again. Of course, when she arrives at her mother's bar, Mona is nowhere to be found. Instead, six feet of hotness named Jackson James is pouring drinks and keeping the place humming.
Sexy and intense, Jax is in Calla's business from the moment they meet, giving her a job and helping her search for Mona. And the way he looks at her makes it clear he wants to get horizontal . . . and maybe something more. Before Calla can let him get close, though, she's got to deal with the pain of the past—and some very bad guys out to mess her up if she doesn't give them her mom.
Books in the Series...